Introduction
There is often a widespread confusion around the definition of Global Business Services, or GBS. We can define this term as the integration of governance, location and business to the shared services and outsourcing opportunities across the large projects.
The development of the business service sector plays an important role in the growth of the economies in EE countries. The salary level, geographical position, cultural similarity and the development of infrastructure attract investors from different countries. Business service centers provide services in finance, accounting, logistics, IT or HR.
Over the last years, we observe the rapid growth of GBS in Eastern European countries. Today, this region plays a key role in the GBS market (for example, the development of Shared Services Centers). Besides, the shared services sector has become very popular among the qualified specialists in EE region due to high salaries, international environment and modern culture.
But the GBS market is growing rapidly, so there is a strong need to understand the trends and use them to get ahead in business.
1. Popularity of the Eastern European region on the Global Service Market
The shared services were established in the USA in the 1980s, and appeared in Europe only in the 1990s (the Nordic region, Great Britain, the Iberian Peninsula, the Netherlands). The first shared services centers in Eastern Europe were launched later in the 1990s. However, after they discovered the advantages of the region, the number of new centers began to grow rapidly.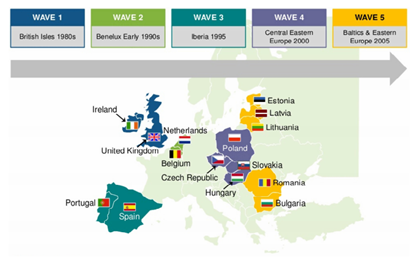 The reasons for the popularity of this region are: attractive economic area, smooth tax regime and lower labour costs (which nowadays is about 30-40% lower compared to Western Europe). Another preference is a wide range of different languages. A lot of European and global companies have multilingual customers and partners, so it is very important for them to create shared service centers in European region so they can work with the multilingual users. That is why the Central and Eastern European region is really interesting for GBS development.
Another reason that played a role in the huge interest in Eastern European region is that global companies can not provide business services from e.g. India only. They understood that if they want to work 24/7, they should establish service centers in Eastern Europe countries. The location of these countries in terms of time zones is very advantageous. The centers can work with America in the afternoon and evening, with Asia in the morning, and with entire Europe, Middle East and Africa with a slight time difference.
The Eastern European region has not only a geographical benefit, but it also has a developed IT infrastructure, well-trained labour force that is cheaper than in Western European countries.
2. Global Trends for Shared Service Centers
There are many global trends in the business service market that show strategic and structural solutions of the organisations. These trends affect the Eastern European market as well.
Trend # 1. Service delivery
Centralisation of technology and service delivery has been in the focus in recent years. It does not mean that the functions should be delivered from one place. Due to technology progress it has become less necessary on condition that all the functions are controlled and managed by the same rules.
Examination of the shared service centres in EE region has shown that the majority of them are multi-functional, they perform more than one service activity.
The future growth of the market leads to expanding service portfolio, mostly in the HR, analysis and reporting, procurement, finance and service areas.
Trend # 2. Organisational
From a geographical point of view, leading shared services centers have been changing their main focus from the regional model to the hub-and-spoke model. As far as global service delivery became possible, the companies began to establish service centers in the most organisational and optimal locations. This is why we observe the growing of greenfield investments in the shared services centers (e.g. in Accenture).
Current multi-functional shared services are very up to date in terms of operating models. They usually have one manager who controls the functions and arranged with the identical service model. Such divisions exist and are very popular in Hungary.
Trend # 3. Hybrid model
Over the last years outsourcing and the shared service methods have advanced dramatically. But still the companies must always make a choice and balance between these 2 approaches. For example: cost reduction OR losing control over the resources, outsourcing OR retention of activities, ruled processes OR customized ones.
To solve such a dilemma, the companies started to use hybrid approaches by combining outsourcing with in-house centers under close cooperation.
The hybrid method considers companies moving some front-office services to the nearshoring locations that are close in space, time and culture (Eastern Europe), and some back-office services to the offshore countries that are cheap and distant (India, China, South Africa).
Trend # 4. Operational excellence
The future definitely belongs to independent organisations (so called integrated business services providers) that call for a variety of services at high level.
Over the past several years, the great changes have observed in shared service organisations that have been reorganised into global business service providers.
Trend # 5. Human labor
Even though a lot of employees of shared service centers consider them as a starting point for the international career path, according to Hoffmann Group, there is a limited number of employees who can get promoted from a local subsidiary to the headquarter within the company. It is more likely to observe the job-hopping phenomenon when an employee changes jobs horizontally.
3. Success stories of SSC in Eastern Europe
There is a huge number of successful shared service centers set up by European companies in different Eastern European countries. Here are some examples.
Norwegian company Yara opened a European supply chain-focused business center in Vilnius, Lithuania. This center occupies a unique place in the company's structure, it is an operational business partner that covers all end-to-end logistics activities, from operational planning to transportation activities, sales order processing and customer service.
French company BIC successfully opened and operates a Shared Services Center in Sofia, Bulgaria. The center consolidates the administrative tasks and activities within BIC's European Finance, Accounting, Reporting, Transactional Purchasing, Customer Service.
German company Bosch created a shared R&D center in Serbia.
American GE successfully operates and extends Budapest SSC which consolidates multiple processes in finance, accounting, procurement, logistics, customs, IT and HR.
Conclusion
Stable economic and political situation combined with a large pool of talents in Eastern European countries encourage investors and business decision makers to take a closer look at these countries for SSC set up. A lot of Western companies are widening service portfolios and increasing the volume of services delivered. However, the services are not only widening, but quality is changing as well. About half of the shared services delivered by local centers provide higher added value services and this trend will continue in the next years.
If your company has a project of Shared Service Center establishment, InterTrade Consulting team would be happy to support you in Central and Eastern Europe.