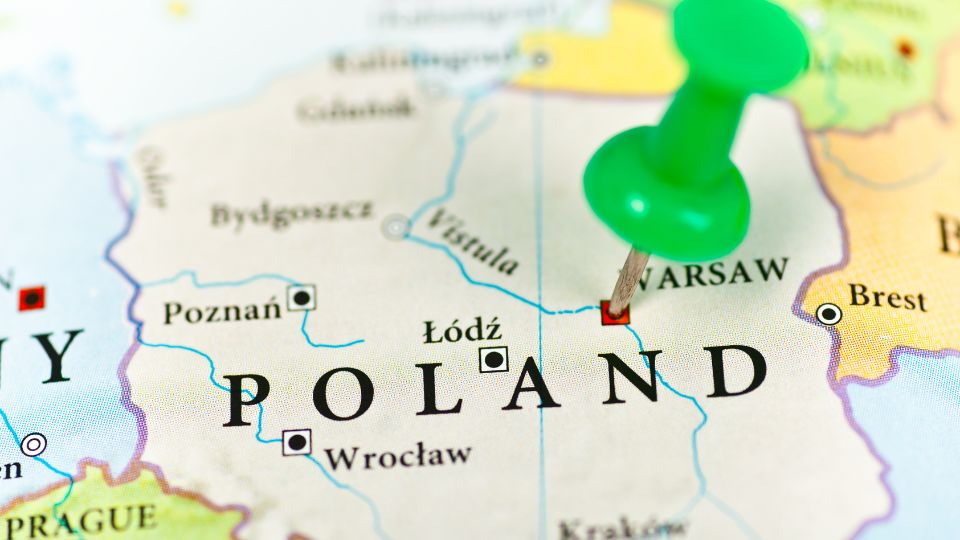 INTRODUCTION
Poland is one of the largest countries of the European Union, the 6th most populated country, and the largest market in the CEE region. The Polish market is more competitive than other regional markets. Here entrepreneurs can start their business and not only sell goods and services in Poland, but also gain new export and sourcing opportunities.
Also thanks to its geographic position, for many companies from CIS/ex-CIS countries Poland is a window to Europe, and for European ones – to Eastern Europe.
Poland is a great target for investments and businesses, as confirmed by huge number of studies. The ranking of Global Best to Invest in 2019 indicates that Poland is in 5th place, after China, Germany, GB and India. The Financial Times also shows similar results, that Poland ranks 5th in terms of the value of investments.
94% of foreign investors are ready invest in Poland again – according to the 12th edition of the Investment climate survey (Grant Thornton).
Poland is a great place for innovation business owing to the vast variety of accelerators, scale-up programs, grants, incentives etc. Particular attention by the government is paid to start-ups development. In 2021 Poland was by far a CEE leader in terms of venture capital transactions (over 40% of total).
At the same Poland strives for international development of their SMEs and the government provides support to help Polish companies entering new markets. The funding covers services to analyse company's export opportunities, select target markets and develop business abroad.
POLAND'S ROBUST ECONOMY
Poland has a strong economy and continues to show strong growth rates. According to economist consensus estimates, the country's GDP growth is expected to continue, albeit at a slower pace.
The World Bank declares that the Polish economy is diverse and, compared to other European countries, was among the least affected by the pandemic.
Figure 1: Impact of pandemic on the EU economy

Poland's economy entered the year on a strong economic footing, with real GDP expanding by 2.5% q-o-q in the first quarter. Stocks were the main growth driver, as companies are slowly moving from promptly production due to increased uncertainty and global supply chain pressures. An outsized increase in equipment investment in the manufacturing sector lifted investment growth to 11.5% q-o-q. In the meantime, private consumption increased only comparatively in spite of the significant inflow of people from Ukraine, which suggests the inflation and consumer confidence are already having an impact on spending decisions.
Figure 2: GDP growth and inflation in Poland


Overall, GDP growth is expected to reach 5.2% in 2022 driven by the exceptionally strong first quarter. Quarterly GDP growth rates are to remain below their historical averages at least till the second half of 2023. In 2023 a low carryover is expected to leave the annual GDP growth at 1.5%.
Hence, Poland has a stable economy with well-established macroeconomic position highly resistant to economic crisis.
DOING BUSINESS IN POLAND
The Doing Business project, launched in 2002, gives the objective measures of business regulations and looks at domestic small and medium-size companies and measures the regulations applying to them through their life cycle.
The survey captures several important dimensions of the regulatory environment as it applies to local firms. It provides quantitative indicators on regulation for starting a business, dealing with construction permits, getting electricity, registering property, getting credit, protecting minority investors, paying taxes, trading across borders, enforcing contracts and resolving insolvency. It also measures features of employing workers.
Figure 3: Doing Business Score Poland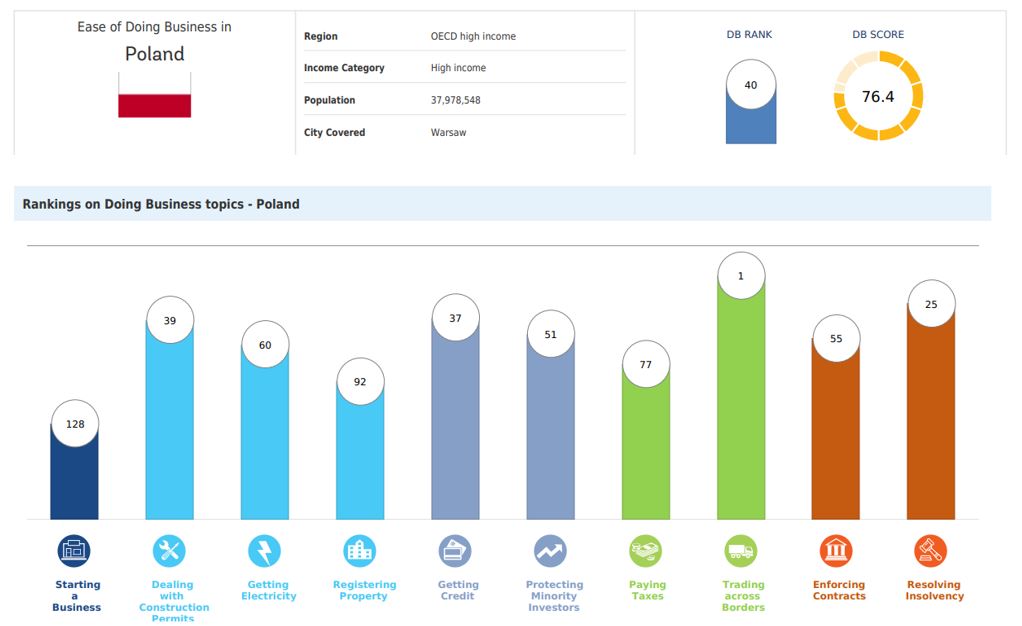 Standard & Poor's credit rating for Poland stands at A- with stable outlook. Moody's credit rating for Poland was last set at A2 with stable outlook. Fitch's credit rating for Poland was last reported at A- with stable outlook. DBRS's credit rating for Poland is A with stable outlook. In general, a credit rating is used by sovereign wealth funds, pension funds and other investors to gauge the credit worthiness of Poland thus having a big impact on the country's borrowing costs.
POLISH INVESTMENT INCENTIVES
Polish government understands the importance of attracting the foreign investments, that is why it offers a variety of investment incentives. Foreign investors can benefit of tax holidays, as well as instruments co-financed by European funds.
All supportive instruments are available on the same terms and conditions to both foreign and Polish investors.
Investment incentives in Poland include:
Special Economic Zones (SEZ), which was established almost 20 years ago.
Governmental grants, which are provided on the basis of the Program for investments support.
Cash grants from EU funds are available for companies registered in Poland and can be obtained for R&D activity such as innovative new investments using a new technology, energy efficiency projects, production of energy from renewable sources etc.
Industrial and Technology Parks, which are applicable both to Polish and foreign businesses.
Real estate tax exemption, which is available for businesses in municipalities.
Patent Box, which includes R&D tax relief, Innovation Box, governmental R&D grants.
SUCCESSFUL INVESTMENTS STORIES IN POLAND
Multiple Western European and American companies have already invested in Poland and keep on expanding their investments.
This country is by far the leading destination for FDI in the CEE region and is in top 5 within the EU.
In Poland during the recent years, we can often observe FDI inflow in the following sectors: R&D, BPO/SSC, manufacturing and energy.
R&D

Poland become a key R&D hub for global players from all over the world.
Since 2014 the number of R&D entities is constantly growing and almost doubled in 6 years.
Poland also leads among the Central and Eastern European countries in terms of R&D personnel in absolute numbers and in compound annual growth rate.
Figure 4: R&D centres in Poland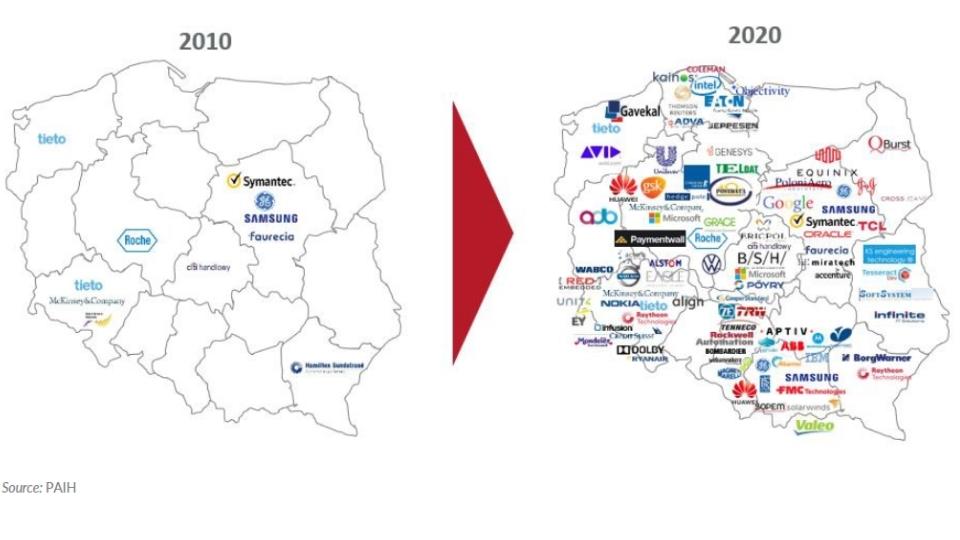 Ericsson is a perfect example of a company which chose Poland for their R&D activities.
The Ericsson R&D Centre in Kraków and Łódź has 1,800 employees, making it the company's second largest R&D centre in Europe after Sweden. The company is currently expanding and looking to increase its staff in the country.
Its engineers in Poland work with major clients around the world, creating software that enables mobile communication on multiple continents.
BPO/SSC
Poland is the CEE leader in terms of number of shared service centers (SSC).
Since 2013 the employment in business service centers (BSC) increased by 3 and reached more than 355000 people. More than 80% of SSC are owned by foreign companies.
The Polish sector of business services is distinguished by being interdisciplinary and provides a broad range of services to clients all over the world. Most of centers support more than one business process and the most popular services are financial and accounting, customer support, IT support, HR and payroll.
Figure 5: BPO and SSC in Poland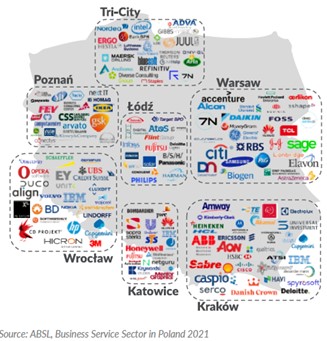 Orange created the Accounting Shared Service Centre in Lublin in 2006 to deliver full accounting service to the Orange Group Entities. The centre employs today around 350 people.
MANUFACTURING
Poland is a promising location to set up a manufacturing facility. In the today's context of supply chain disruption and increase of transport costs with Asian region, more and more European companies are looking for an alternative to Asia for manufacturing and Poland is an interesting choice.
According to Eurostat report an estimated hourly labour costs in Poland is one of the lowest in the EU.
Figure 6: Estimated hourly labour costs EU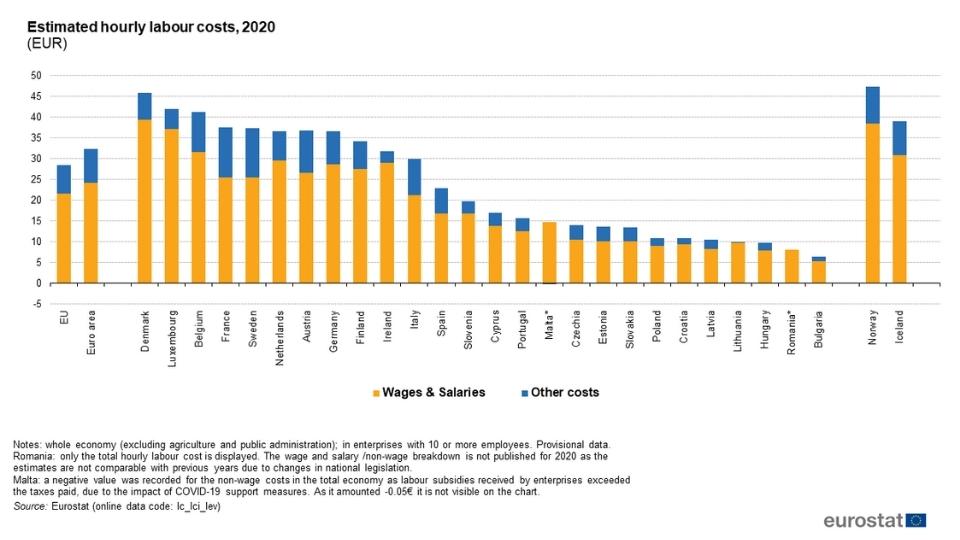 Mercedes-Benz Cars started in 2017 the construction of a new engine plant in Jawor, Poland. Today the factory employs around 900 employees and produces four-cylinder gasoline and diesel engines and electric batteries for Mercedes-Benz passenger cars.
The company selected Poland due to the combination of the following factors: location, size, logistics advantage, existing infrastructure as well as local workforce quality.
ENERGY
Polish economy keeps on growing for several years in a row and as a result energy demand is increasing. Besides the energy mix in Poland is based on coal and the government aims to reach 21% from RES in final energy consumption.
The government support mechanism for RES development is based on auctions. Corporate PPAs look also as a promising mechanism for future investments in RES sector in Poland.
BayWa r.e. has recently built 64.6 MWp Witnica solar park which is the largest subsidy free solar park operating under corporate PPA offtake scheme (CfD).
ABOUTS US
InterTrade Consulting is a French company with branches in Central and Eastern Europe which supports you on each stage of your investment project. To find out more about the investment opportunities in Central and Eastern Europe, do not hesitate to book your free consultation with us.