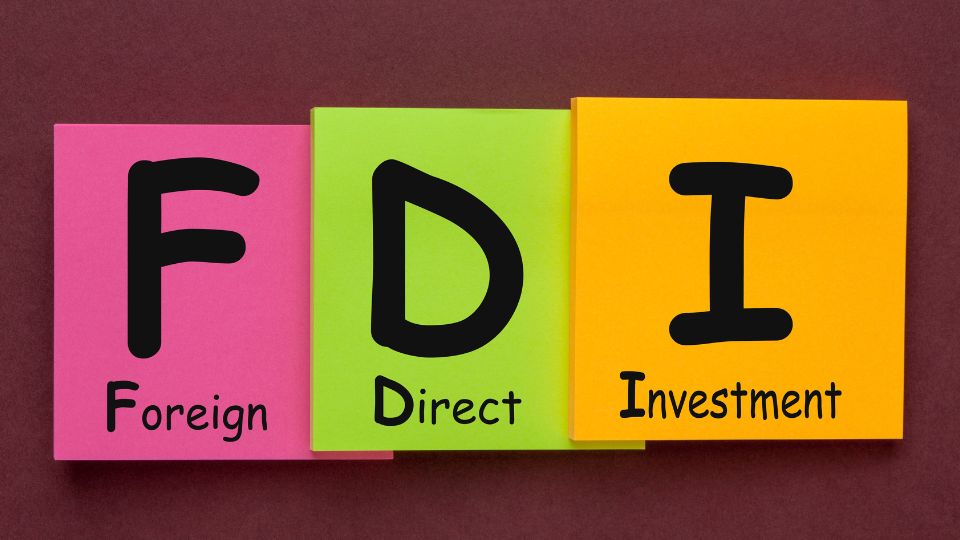 INTRODUCTION
A lot of world-known companies have made a decision to invest in or relocate their business to Central and Eastern Europe (CEE). The countries of this region understand huge benefits of such foreign investments and therefore are strongly competing to attract them. In this process the governments and local authorities of CEE keeps on adopting various incentives for foreign investors to convince them investing in their respective country or region.
In this article we would like to discover major destinations for FDI in the CEE region: Hungary, Poland, Czech Republic, the Baltics and Romania. It is worth mentioning that foreign investments had a huge influence on social and economic transition of these countries during the last 30 years.
Most investors that choose to invest into CEE region generally consider the following benefits:
– Lower labour costs
– Tax benefits and fiscal policy
– Government support of FDIs
– Availability of workforce
– Skills of local pool of talents
– Development of industrial infrastructure
– Supply chain optimisation
We would like to provide in this article a short overview of FDI in CEE countries.
TRENDS IN INVESTMENTS
Various bodies, such as the Economist Intelligence Unit, have observed trends that have taken place in foreign investment in CEE region, including, for example:
move from traditional manufacturing to service industries (banking, IT, telecoms) in the late 90s and early 2000s and the recent transition back to manufacturing (for example, the recent major investment in automotive industry in the Czech Republic and Slovakia);
switch from predominantly greenfield and brownfield investments to more existing investors reinvesting profits in the CEE countries.
ATTRACTIVENESS OF CEE FOR FDI
According to the survey led by Ernst & Young (Ernst & Young's 2022 European Attractiveness Survey), the Central and Eastern European region including Poland, Czech Republic, Hungary, the Baltics and Romania, is now regarded by international executives as the third most attractive location for establishing operations after Western Europe and Northern America. Hence, CEE region leaves behind such regions as China and India.
Figure 1: Which of the following regions do you believe are the three most attractive to establish operations?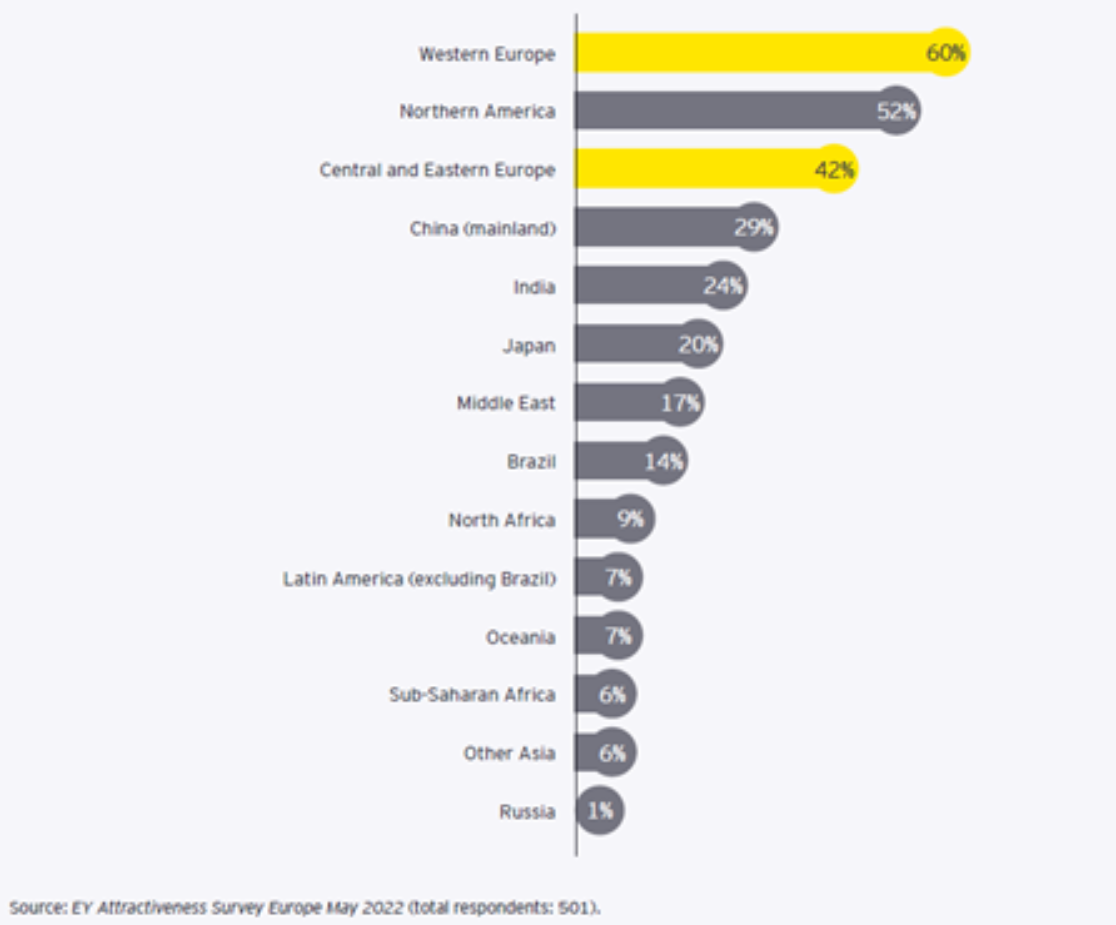 CHOOSING A RIGHT COUNTRY TO INVEST
Any foreign investor looking to locate or relocate their operations within the CEE shall consider multiple factors.
Each industry has their own specificities and criteria for the investment. For example, the companies from heavy industry sector might consider a good transport infrastructure and connection as their main priority. At the same time the R&D projects in service industries will be looking primarily for the availability of skilled local workforce.
While selecting a country to invest low labour costs and tax rates might seem crucial to investor. However, the attractiveness of the market shall not be based only on cheap wages and lower taxes. Some invisible from the first sight factors might prevent the investor from reaching their goals. The way of doing business sometimes also differ from the investor's home country.
Choosing a country and region for investment require a complex and consistent preliminary research to ensure the selected option corresponds exactly to the main investor's criteria, strategy and goals.
Reaching out to local consultants and experts is usually a good and sometimes inevitable practice as it allows the potential investors to avoid pitfalls, gain time and reach their goals.
CEE countries are generally quite well placed in different rankings related to the ease of doing business, nevertheless, every country has advantages and constraints in regards of FDI.
We propose a short review of the most promising sectors for investment in major CEE countries.
TOP AREAS TO INVEST IN CZECH REPUBLIC
The Czech Republic is one of the most successful transition economies in terms of attracting foreign direct investment. Over 130 000 Czech firms across all sectors are supported by foreign capital.
Having one of the most stable economies in the EU and being one of the most advanced CEE countries, the economic policy of the Czech Republic is stable and foreseeable.
The local currency is fully convertible and has a low volatility to EUR compared with other CEE countries. At the same time the country has a lower corporate income tax rate compared to the Western European countries (19%).
In the past decade, Prague has become a friendly environment for investors and startups, supporting their development at each stage.
Key sectors of investment include:
Life Sciences
Shared Services Centres
Information and Communication Technologies
Electrotechnical and Electronics Industry
Nanotechnology and Advanced Materials.
There are also a lot of companies providing services to startups such as co-working spaces, incubators and accelerators. Moreover, there are several reputable universities that ensure a high number of educated people. Students generally have a good knowledge of English. Scholars from technical fields are among the best in the world and are in high demand on the foreign markets. Additionally, the living and labour costs are still lower compared to Western Europe.
FDI BOOM IN HUNGARY
According to the 2022 EY Europe Attractiveness Survey, the number of FDI projects boomed in Hungary last year with a 58% growth compared to 2020.
Recent data shows that Hungarian economy continued growing and its investment climate stays favourable. Besides, there is a wide range of skilled workforce, transportation facilities, and government incentives to support the investment climate. On top of that Hungary has the lowest rate of CIT among all the EU countries (9%).
There are several top investment sectors in Hungary with a growing potential.
✔ Agriculture Sector
Hungary has one of fastest growing agricultural sectors in Europe. According to recent information, the sector has created over 600,000 jobs in the past years.
✔ Information & Communications Technology
This sector is highly concentrated on software development. Various outsourcing companies and start-ups apply the latest innovative tools to build applications and digital solutions.
✔ Automotive Industry
This is one of Hungary's core investment industries as it generates almost 20% of the country's total export volume. Having over 600 companies in the region, the automotive sector employs than 150,000 people.
INVESTORS INTEREST IN POLAND
Poland is by far the largest destination for FDI in the CEE region in terms of both number and value of investment projects.
The Global Best to Invest index 2019 ranked Poland being on the fifth place after China, Germany, the United Kingdom and India. The survey carried out by Grant Thornton, the Polish Investment and Trade Agency and HSBC showed that 94% of investors would choose Poland for investment again which confirms a high satisfaction rate of existing investors.
Poland is a great place for entrepreneurs, taking into consideration the variety of acceleration, programs for start-ups, grants etc.
Special attention is paid to start-ups in the eastern part of Poland, where programs are more advantageous. Moreover, the country is interested in internationalization of small or medium sized enterprises providing support for positioning their products or services on the foreign markets.
The highest potential sectors in Poland according to the Polish Investment & Trade Agency are:
Aerospace
Household appliances
Electronics
Business Services Sector
Food processing
Pharmaceuticals
MedTech
ICT Sector
INVESTOR'S GUIDE TO THE BALTICS
Baltics include Lithuania, Latvia and Estonia. These 3 small countries are gaining more and more interest among the foreign investors in the recent years.
Lithuania is the largest market in the Baltic. This country offers interesting opportunities to foreign investors in the following sectors:
Digital Technologies, especially Fintech and Software engineering
Global Business Services & ICT
Automotive and Industrial Machinery
Life Sciences
Investors in Latvia benefit from the country's location between European Union and Commonwealth of Independent State countries. In addition, Latvia has a stable monetary policy and well-developed infrastructure. It also operates five special economic zones that can offer tax incentives.
Latvian key sectors for foreign investments are:
Bioeconomy / Wooden Industry
Information and communications technology
Engineering and metal working
Life Science
Transport and storage
Estonia is among the leading destinations for investments per capita across CEE. This country is also #1 in Europe in number of unicorns per capita. Key economic sectors are:
IT
Biotechnology
Wooden industry
Cleantech and greentech.
Estonia is the seventh in the Heritage Foundation's 2022 Index of Economic Freedom. It is open to different investment projects in such sectors as export, innovation or the ones that support region development. The country offers a variety of grants and fiscal incentives for investors. For example, there is no corporate income tax on retained and reinvested profits.
KEY SECTORS TO INVEST IN ROMANIA
Romania's five largest cities represent almost 70% of all investment projects in 2021. This shows the investors' focus primarily on large, developed areas of the country:
✔ Automotive
Most of Romanian automotive manufacturing facilities are subsidiaries of foreign companies.
In 2021 around 400 000 cars were produced in Romania.
This country has attracted not only foreign car manufacturers but also Tier 1 and 2 suppliers.
✔ Information & Communications Technology
Romania is one of the leaders in Europe in terms of number of certified IT professionals.
✔ Green energy
With its upcoming renewable projects, Romania is expected to achieve the target of generating 30% of electricity from renewable sources by 2030. It has already successfully achieved its previous target before the deadline (2025). Recent changes in the energy regulation in Romania aim to develop the mechanism of corporate PPAs and shall also encourage the further development of RES projects in the country.
Construction of critical infrastructure, health system, education system and a greener economy are all vital objectives for further development of Romania.
CONCLUSION
The CEE region within the EU offers to foreign investors relatively low labour costs, favourable fiscal environment, availability of different incentives for investment, stable macroeconomic situation and access to a high-quality workforce.
As salaries continue to rise in China and considering the recent supply chain disruptions, the professional skills set, geographic proximity and "cultural similarity" are the advantages increasing the CEE countries attractiveness.
While investing in the CEE region, foreign investor shall make a comprehensive analysis to identify the best location for their business. Often the support of local experts and consultants is indispensable to help a foreign investor to make a right choice.
ABOUTS US
InterTrade Consulting is a French company with branches in Central and Eastern Europe which supports you on each stage of your investment project. To find out more about the investment opportunities in Central and Eastern Europe, do not hesitate to book your free consultation with us.