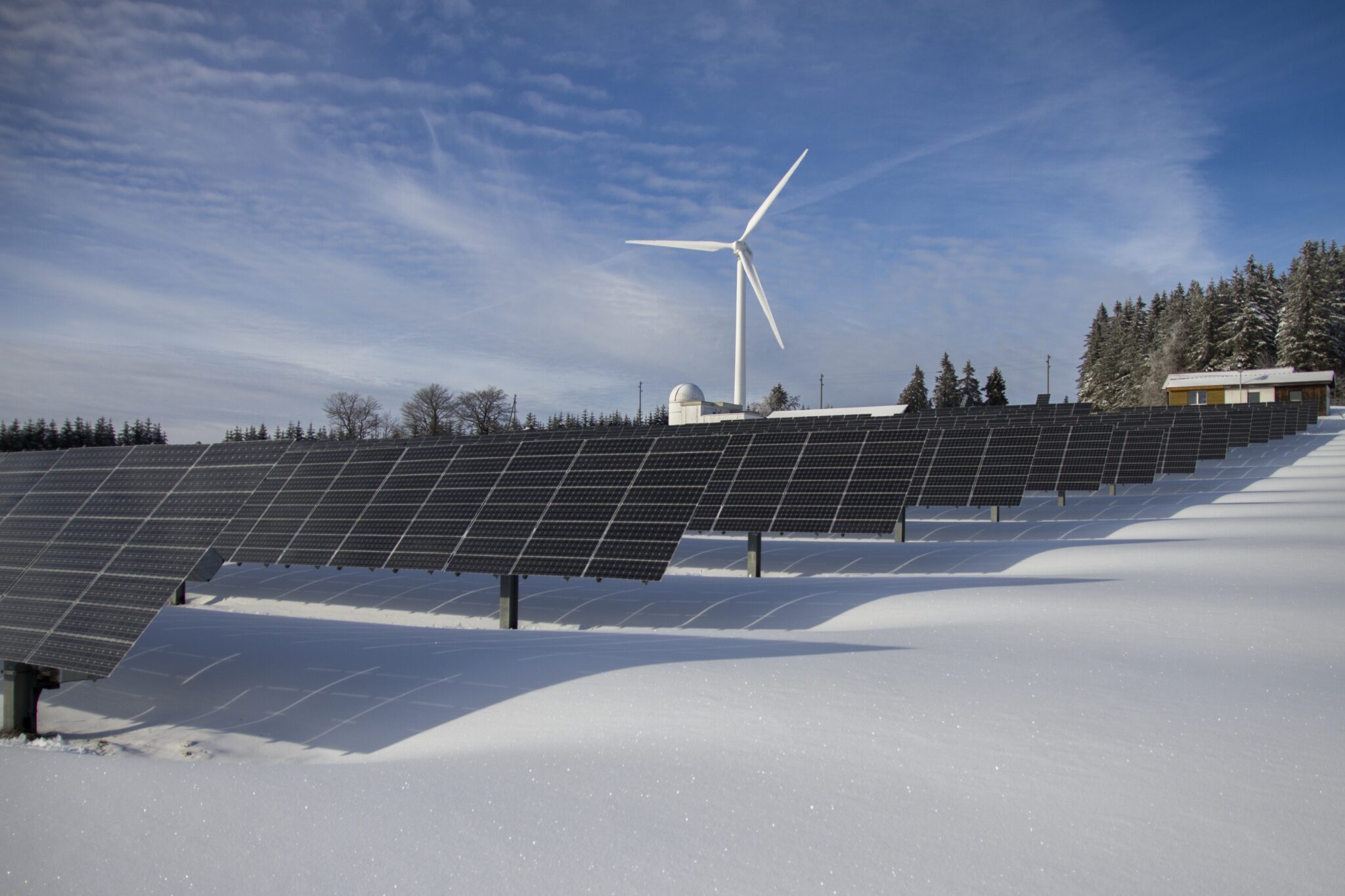 INTRODUCTION
Countries in Eastern Europe have agreed to ensure a larger part of power generation mix coming from renewable resources in the nearest future. In order to achieve this goal, each country will not only need to increase existing energy infrastructure, but also transform regulatory schemes and markets.
By 2030, the European Union is committed to increase the use of renewable energy to 32% of consumption. The sector is booming, particularly in the northern and eastern European countries. Twelve countries have reached or exceeded their 2020 targets, including the Baltic States, Bulgaria and the Czech Republic.
Eastern European countries are moving towards energy independence, seeking to adapt to growing demand and to meet European policy expectations. Thus, the renewable energy sector is experiencing a real acceleration.
Signals from Eastern European governments are quite positive and, with an appropriate support from the institutions, the region is experiencing greater interest for investors.
POLAND
Foreign investors perceive Poland as a promising energy market. The increasingly favorable environment for investments in the Central European sector is reflected in foreign investors' growing interest, particularly in Poland. In recent years, Poland has become a regional center of investor activity in this area. The most significant part of completed transactions concerned wind and solar installations.
Wind power in Poland has become an alternative to coal-fired power. This technology has great potential, due to ideal offshore conditions along the Baltic coastline.
Nuclear option is being examined, but the lead-in is long and quite expensive, and it has environmental issues. Wind power, on the other hand, is relatively easy to install and very popular among investors.
A decade ago people thought of renewable energy as something inefficient and expensive. But today it has become cost-competitive. Moreover, Poland's Baltic region offers great potential for wind power, as it has strong winds over the coastline making the ideal conditions.
A dozen wind farm projects under thought in Poland's Baltic area, as it has the potential to generate a quarter of Poland's energy needs by 2040. For that to become real, the investors need to be confident in Government's commitment. One way to demonstrate this is to soften the regulatory obstacles, for example onshore wind.
Recent research showed that wind farms can have 6 GW of capacity, which should be doubled to 10 GW–12 GW by 2030.
Poland is developing strong investment attractiveness and hosting large wind and solar farms and other facilities. It accounts for 10% of the European production of photovoltaic panels, i.e. 500 MW/year. The development of this industry aims at European independence from foreign suppliers. The focus is on micro-installations, accessible to households, but large industrial park projects are being carried out. In the years 2021-2022, 2.8 GW of photovoltaic farms are expected to be built in the country. By the end of last year, Poland had the third largest wind power production, after Germany and Spain.
Many international companies have already invested in green projects in Eastern Europe. Notus has established a 24-turbine wind farm in Poland, in Linowo. BayWa.re, an international expert in renewable energy, is building the largest solar farm in Poland, in Witnica, with a production capacity of 64.6 MWp. Numerous farms are working together with the local subsidiary.  Another wind farm in Kamionka, with an output of 30MW, was built thanks to their investment.
THE BALTIC STATES
Lithuania, Latvia and Estonia require infrastructure investment to synchronize their electricity grids with European requirements.
The Baltic states also benefit from the Baltic coastline wind boom, but they have their own challenges.
After decommissioning of its nuclear power plant, Lithuania is now heavily dependent on imported power. The urge to independence in energy has resulted in the national energy plan with 70% of domestic energy production by 2030, and 100% – by 2050.
Estonia for today is highly dependent on carbon-intensive shale oil, but by 2030 after a swift transition biomass is likely to become a major focus. Although biomass was for long time considered as "not clean" for the climate, recent technologies has allowed biomass pellets application.
Latvia today has been already using 40% of energy from the renewable sources, in particular from hydropower. By 2030 it is planned to reach 50% of consumption.
ROMANIA AND HUNGARY

It is expected that regulatory frameworks are ironed out and removed if international investment is to grow.
The sizes and diversity of Romanian and Hungarian regions lead to a divided picture with natural resources – solar power in the south, wind – in the north and hydropower in the Alpine area. And with the rational investment projects, the solar capacity can grow rapidly.
Hungary is showing a strong interest for the international investors in terms of solar power generation. Although there are still many issues to solve, including taxation.
On the eastern part of Europe, Romania has leading position in terms of renewable energy. The substantial hydropower generation reached 24% of the target in 2020. And it is planned to maintain 30.7% by 2030 with the help of solar projects.
There has been a strong pressure in the Eastern Europe region to increase the usage of renewable sources of energy, as EU is planning to cut emissions by 55% by 2030.
To reach this target Eastern European countries need a full support from the European Union and national governments. Distributed networks, developed technologies, financial instruments, corporate PPAs – these are the keys to meet a green future.
GOVERNMENT SUPPORT OF RENEWABLE ENERGY PROJECTS
Government support usually plays a major role to boost the renewable energy development in the country at the beginning. Eastern European countries were not an exception and multiple support mechanisms existed in these countries at the initial stage of renewable energy market development.
Today, however most of the Eastern European renewable energy markets shows a certain level of maturity and government support mechanisms were reduced or changed.
Let's briefly review the main incentives available for renewable energy projects in the before mentioned countries of Eastern Europe.
RES GOVERNMENT SUPPORT IN EASTERN EUROPE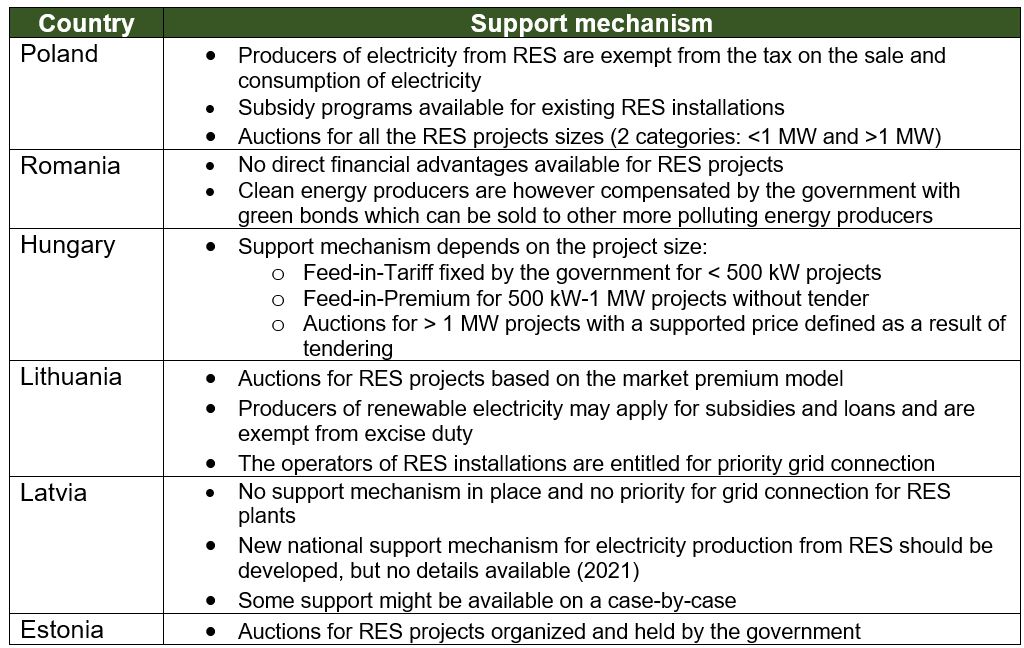 CORPORATE PPAs: SITUATION IN EASTERN EUROPE
Power Purchase Agreements (PPAs) are direct marketing agreements concluded between a legal entity and an independent power producer (IPP).
Corporate PPA (cPPA) usually means the bilateral agreement for electricity purchase which is concluded between a private company end-user and an IPP.
This scheme of electricity purchase from renewable energy sources is gaining more popularity among corporate clients in the countries of Eastern Europe.
Spike of electricity prices, growing concerns about sustainability, decarbonization of economy and energy independence encourage the development of corporate PPAs.
However, despite obvious interest, corporate PPA model is not yet as well established in Eastern as in Western Europe. Some positive trends in this direction are emerging though.
Poland is among the leaders of CEE region in terms of number of cPPAs with dozens of operational examples in both solar and wind. Poland also authorizes most of the existing on-site and off-site PPA models. The first cPPA was signed in January 2021 between BayWa r.e. and HeidelbergCement.
Romania has recently updated the national legal framework in the electricity sector enabling the development of corporate PPAs in the country. As a result, the first cPPA in Romania was signed in February 2022 between multinational automotive supplier Axpo and energy company Verbund.
Lithuanian parliament granted in 2020 several amendments regarding the renewable energy which allowed the IPPs to enter into PPAs with consumers without additional licensing. Several long-term cPPAs were concluded following these changes. For example, Axpo signed in November 2021 cPPA with 3 wind farms having combined capacity of 186 MW.
There is no doubt that corporate PPAs will gain more and more ground in Eastern European region in the coming years. Considering a high level of industrialization in Eastern Europe, cPPA model is an interesting opportunity for foreign developers to enter this market.
SUMMARY
Eastern European countries are gradually catching up with Western countries in the race towards energy transition. Attractive policies, legislation and tariffs are promoting investment. Many international companies are already operating in these vast territories.
InterTrade Consulting can assist you with your renewable energy projects in Eastern Europe and the Baltic States.
For further information contact us: contact@intertrade-consulting.com